Event
EPEE hosted a policy session at EU Sustainable Energy Week on 28 September 2022 :
Zero-emission buildings: how to a achieve climate-neutral heating and cooling from Nuorgam (Finland) to Rizokarpaso (Cyprus)
Date: 28 September 2022, 14.30-16.00
EPEE, AREA, REHVA and the EPB Center  joined the EU Sustainable Energy Week (EUSEW) on 26-29 September 2022.
EPEE welcomed a distinguished set of speakers at a dedicated policy session on how to realize heating and cooling for zero-emission buildings (ZEB) across the EU, including :
 Stefan Moser, Head of Unit Buildings and Products (ENER B.3), European Commission
Andrea Vallejo-Galarza, EPEE President; Vice President & General Manager Johnson Controls
 Coen van de Sande, AREA President
 Johann Zirngibl, Vice-President at REHVA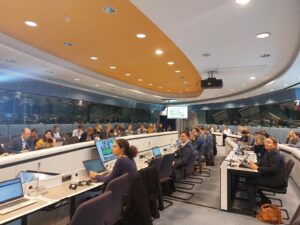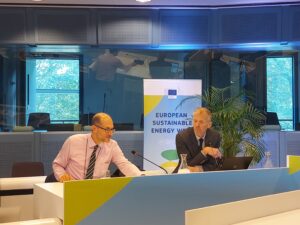 The conference held in the framework of the EU Energy sustainability week gathered a full room (almost 70 participants) and hundreds of online registered participants.  Stefan Moser (DG ENER) gave his trustful insights on the current EPBD negotiations, and answered openly the various questions raised during the interactive Q&A session.
The session demonstrated the various elements needed to successfully implement the Zero-Emission Building concept across the various climate zones of Europe, bringing together the perspectives of the EU institutions with the Heating, Ventilation and Air-Conditioning (HVAC) designers, manufacturers and installers and building professionals representing the whole value chain of efficient and renewable HVAC technologies from design to operation and maintenance.
In case you missed it, you can watch the replay (from 5:11:17).  
Download the full programme of the EUSEW Policy Conference 2022 
Moderator:
Folker Franz, Director General, EPEE
Speakers:
Stefan Moser, Head of Unit, European Commission DG for Energy, Unit B2, Buildings and Products
Andrea Vallejo Galarza, EPEE President, Vice-President and General Manager Johnson Controls
Coen Van De Sande, AREA President, Director NVKL
Johann Zirngibl, Vice-President, REHVA